Polygon (MATIC), the second-layer solution for the Ethereum network, emerged in 2021 as one of the most promising crypto-currencies with a YTD of 4900% whereas the YTD of Bitcoin is only 200%. MATIC is used to power transactions and pay fees on the MATIC network, which is now called Polygon.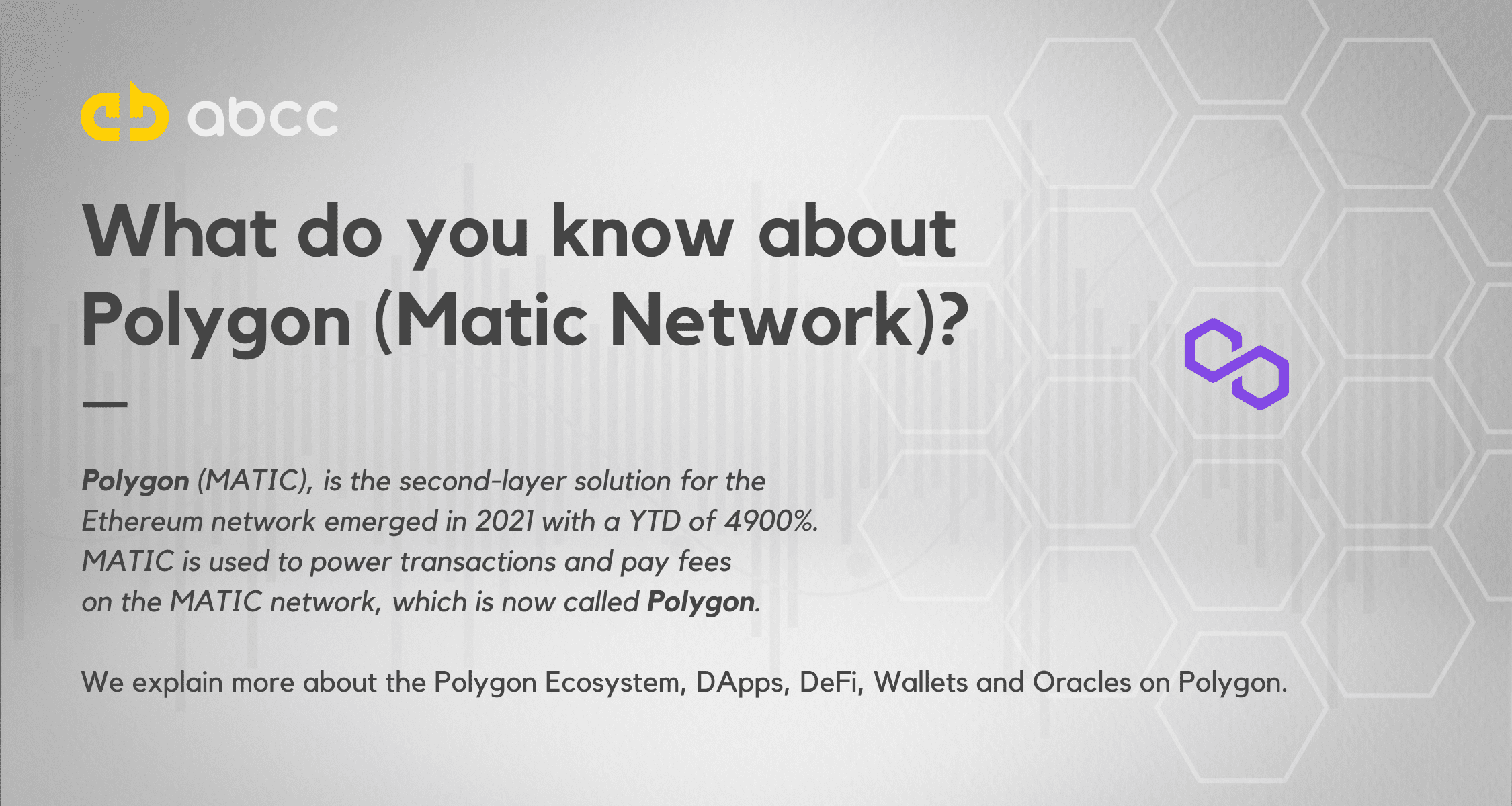 MATIC is used by people to transfer encrypted funds over the Ethereum network with very low fees and very high speeds (up to 7,000TPS, transactions per second). It attracts many projects to set up on the network due to its scalability and fee benefits.
(Source: MarketWatch as of Aug. 6, 2021)
Introduction
Decentralized finance (DeFi), or open finance, is the most revolutionary and thrilling idea of blockchain application. DeFi provides everyone who has access to the Internet a fair chance to participate all kind of financial activities on blockchain networks, trustless, permission-less and censorship-resistance.
As for now, there are over 73 billion USD total value locked on Ethereum. More and more users are getting involved in financial activities on Ethereum. However, during the transition peak time of Ethereum, the high fees are unbearable for small capital participants, making DeFi another rich people's game.
The scaling solutions for Ethereum are crucial and urgent. These solutions include state channel (lightning network), sidechain (Plasma and Roll-ups), roll-ups (zk-rollups and optimistic-rollups), and have driving more attention than ever. One of the most eye-catching ones is Polygon.
Polygon – Ethereum's Internet of Blockchains
Polygon (former Matic Network) is a blockchain protocol and framework aiming to connect isolated blockchain networks. It combines the Plasma Framework and the proof-of-stake blockchain architecture. Its core component is Polygon SDK, a modular, flexible framework that supports building multiple types of applications.
By using its network, one can create optimistic rollup chains, ZK rollup chains, stand-alone chains. It transforms Ethereum into a multi-chain system, which is akin to others such as Polkadot, Cosmos, and Avalanche. The MATIC token is used to securing the system and enabling governance.
For the time being, there are two scaling solutions and bridges as well supported and used :
PoS Chain: PoS chain has its own validators and is separate from the security provided by Ethereum. It takes 3-5 minutes to deposit from Ethereum to Polygon and 30 minutes to withdraw.
Plasma: the Plasma shares the level of security provided by Ethereum. It also takes 3-5 minutes to deposit, but you have to wait for 7 days to withdraw.
Before using, you have to:
Add Polygon main network on your blockchain wallets such as MataMask.
Transfer your Ethereum digital assets via Polygon's bridges to the network.
---
There are more and more users and decentralized applications (DApps) on the network, as of now, over 7 million transaction per day; over 350 DApps using its network and the total MATIC staked are over 1.7 billion. You can now enter the world DeFi, NFT (non-fungible token), gaming with high TPS and extremely low fees.
(Source: Polygon as of Aug. 6, 2021)
DApps on Polygon
DeFi
Decentralized Exchanges (DEX)
Curve Finance: Curve is an exchange liquidity pool on Ethereum (like Uniswap) designed for: extremely efficient stable coin trading low risk, supplemental fee income for liquidity providers, without an opportunity cost.
SushiSwap: The SushiSwap protocol realigns incentives for network participants by introducing revenue sharing and forum-driven network efforts to the popular AMM model.
1inch: DeFi / DEX aggregator with the most liquidity and the best rates on Ethereum and Binance Smart Chain (BSC), 1inch DApp is an entry point to the 1inch Network's tech.
Aave: Aave is an open source and non-custodial liquidity protocol for earning interest on deposits and borrowing assets.
EasyFi: EasyFi is a Layer 2 DeFi Lending protocol for digital assets. Taking a strong community-oriented governance approach with $EASY.
Wallets
MetaMask: MetaMask is a software cryptocurrency wallet used to interact with the Ethereum blockchain.
Math Wallet: Math Wallet is a multi-platform cross-chain wallet that supports 38+ public chain ecosystems such as EOS, TRX, BTC, ETH, Binance Chain, Cosmos, IRISnet.
SafePal: The 1st Tokenized Hardware Wallet within the crypto industry backed by Binance.
Oracles
Chainlink: Chainlink's decentralized oracle network provides reliable, tamper-proof inputs and outputs for complex smart contracts on any blockchain.
Band Protocol: Secure, scalable cross-chain decentralized oracle – we connect smart contracts to external data and APIs.
Tellor: Tellor is a permissionless community of token holders, data providers, and validators. Together, we cryptographically secure putting real world data on-chain.
Reef Finance: The gateway to DeFi through Liquidity and Protocol Aggregation, Proprietary Analytics, and Multi-Chain Accessibility.
Injective Protocol: Injective is the first layer-2 decentralized exchange protocol that unlocks the full potential of decentralized derivatives and borderless DeFi.
Autofarm: Autofarm is a leading DeFi yield aggregator on BSC and Polygon that has 3 products as part of the Autofarm ecosystem, namely Vaults (yield optimizer), AutoSwap (DEX Aggregator), and farmfolio.
NFT & Gaming
Decentraland (MANA): Decentraland is a virtual game world run by its users. Every piece of land and every item in the virtual land is a non-fungible token. Some of them sell for thousands of dollars.
AnRKey X: The platform combines DeFi and eSports gaming for users to compete, purchase and stake unique NFTs and win rewards.
Neon District: Neon District is the cyberpunk role-playing adventure and flagship game developed by Blockade Games.
OpenSea: The world's largest digital marketplace for crypto collectibles and NFTs, including ERC721 and ERC1155 assets. Buy, sell, and discover exclusive digital assets like Axies, ENS names, CryptoKitties, Decentraland, and more.
Terra Virtua: A truly immersive collectible platform across Mobile, AR and VR with unique social, gaming and creative experiences, enabled by blockchain.
Aavegotchi: Aavegotchi is a DeFi-focused NFT that runs on the Aave protocol. Simply put, Aavegotchis are game avatars that can be used as DeFi collateral to earn staking rewards.
Conclusion
Herewith only listed a few DApps of some common categories. There are still a great many of DApps waited to be discovered and interacted within your favor. Although it might not have the same level of security guarantee like that on Ethereum; however, with its high transaction speed and low cost, we believe that there will be more and more applications will be deployed onto Polygon's ecosystem in the future.
Haven't verified your account?
Verify your account now and start trading MATIC/USDT now!!!
---
Join ABCC Communities:
Twitter – https://twitter.com/ABCCExOfficial
Telegram –
English: https://t.me/ABCCExOfficial_en
Russian: https://t.me/ABCCExOfficial_ru
Chinese: https://t.me/ABCCExOfficial_cn
Turkish: https://t.me/ABCCExOfficial_tr
Vietnamese: https://t.me/ABCCExOfficial_vn
Spanish: https://t.me/ABCCExOfficial_es
Italian: https://t.me/ABCCExOfficial_it
Indian: https://t.me/ABCCExOfficial_in
Portuguese: https://t.me/ABCCExOfficial_pt
---
Risk Warning:
You should be aware that cryptocurrencies are subject to high price-volatilities. You are solely responsible for determining whether any investment, investment strategy or related transaction is appropriate for you based on your personal investment objectives, financial circumstances and risk tolerance. ABCC reserves the right to rescind and terminate our services to users in countries and jurisdictions where relevant laws and regulations apply.